Neuromarketing. Definitely a hot topic. As it should be, in our opinion. As neuro is on the rise, marketeers are enabled to create better marketing. Being able to create the optimal marketing campaign makes our heart skip a beat.
Even though neuromarketing is a nice conversation starter nowadays, not everyone know what it means exactly or what we are able to accomplish using neuro.
That's why we've listed our nine favorites books on neuromarketing. On the one hand, these books are about neuromarketing research. Topics include using research methods as EEG, fMRI, or Eyetracking for decoding the subconscious mind of the consumer. On the other hand, these books are about the power of science and, mostly, about psychology in marketing. These books will teach you to increase your marketing results in a jiffy.
What Marketers don't know…
This book will provide you with an evidence-based answer on a huge number of important questions that occupy marketeers' minds. Questions like: How do brand grow? How does advertising work? What happens in the consumer's mind when seeing prices and promotions? Written by Byron Sharp (Professor Marketing & Science at the University of South Australia) and truly, highly recommended.
View or order this book on Amazon.com
An absolute must-read for everyone with the slightest interest in human behavior. Professor Cialdini spent his career in research the science behind 'influence'. He is an expert on conviction and negotiation, and the author of this amazing book. 'Influence' discusses six psychological persuasion principles Cialdini discovered in his studies. These principles are accompanied by often highly recognizable examples and anecdotes that will stick in your mind.
Disclaimer: When you start this book, you'll keep reading 'till you've finished it.
View or order this book on Amazon.com
Hooked dives into the consumer's thoughts. Why are some products successful in grabbing your attention, while others can't? How can marketeers turn their products into unbreakable habitual purchases? And is there a pattern that can explain how we get addicted to our favorite shower gel or toothpaste? Read Hooked to know the answers to these questions.
View or order this book on Amazon.com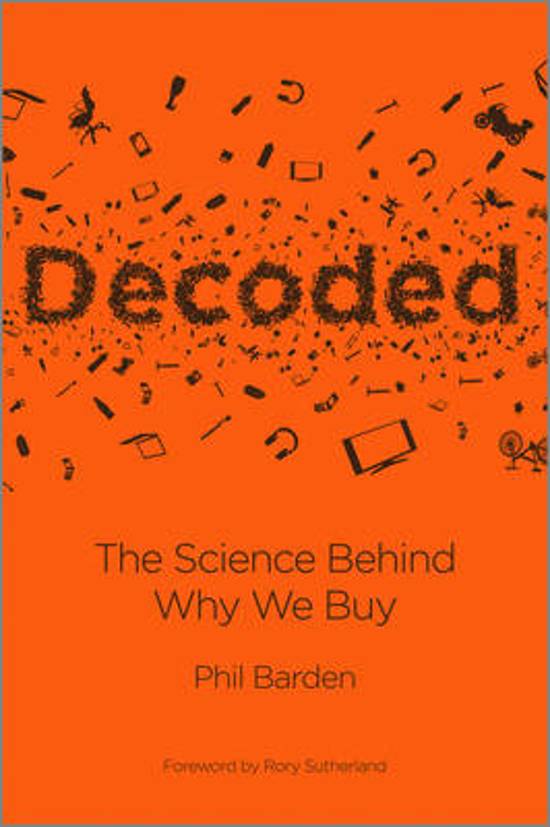 Why do we buy what we buy? By using fun, vivid examples, this book will take your hand and guide through the science behind consumer behavior. Phil Barden knows how to educate you in a very precise, entertainable manner. After reading this book, everyone will understand the value of science in marketing. Phil sheds a light on the latest insights in behavioral economics, psychology, and neuro-economy. One of our all-time favorites!
View or order this book on Amazon.com
A total of 33 psychological persuasion techniques for advertisements. A real guilty pleasure for every marketeer with an interest. You've always been told not to judge a book by its cover – in this case, you should. The design of the cover (as well as the rest of the book) is exquisite. The visual content that accompanies the neuromarketing techniques is a real extra. Each technique is awarded with a score for the effectivity, the x-factor for the WOW-effect and the amount of effort that has to be taken when implementing the technique.
View or order this book on Amazon.com
A book filled with evidence-based principles to optimize your advertisement. This book is written in a less 'popular' style than most other books from this list, but it does contain a huge amount of high-quality information. The principles are explained clearly and can be applied in the blink of an eye, to every media channel you can think of: Printed advertising, TV, video, internet, and radio.
View or order this book on Amazon.com
This book tackles actual neuromarketing research. Thank to current methodology, we are able to investigate more than ever, making neuro research increasingly important in marketing.
Written by one of the most progressive people in the field of neuromarketing and consumer neuroscience, this book explains how the brain works. Additionally, it demonstrates how this knowledge can be translated into understanding and influencing consumer behavior.
View or order this book on Amazon.com
An international bestseller for a reason. Written by none other than Daniel Kahneman, a famous psychologist and Nobel prize winner for Economics. Daniel takes you on a journey through the human brain and explains through which systems we take our decisions. System 1 is quick, intuitive, and emotional, while System 2 is slower, more rational, and logical. He clarifies what this means and how to use harness it for the persuasiveness of your marketing campaign.
View or order this book on Amazon.com
A fun book to have, explaining how neuromarketing works, provides you with insights of the latest neuromarketing research, and clarifies how to apply neuromarketing strategies on each level of your marketing campaign, with each type of budget. Furthermore, the book supplies the reader with practical techniques to help marketers in creating a deeper connection between customer and brand. And, not completely unnecessary, Neuromarketing for Dummies discusses ethics in neuromarketing.
PS Vond je dit blog waardevol en wil je het niet missen als we een nieuwe publiceren?
Schrijf je dan in voor onze updates, je bent met ruim 7763 anderen in goed gezelschap.