Pathé
Neuro Usability: Generating a 7% higher conversion rate, this is Pathé's new blockbuster
Tom van Bommel
Responsible for this research
Also interested in Neuromarketing? Contact us:
This email address is being protected from spambots. You need JavaScript enabled to view it.
Main question
This is how Pathé realised a great improvement in the online customer journey using neuro research
Can subconscious road blocks be found when tickets are bought online and do these subconscious road blocks influence the emotional customer journey? How can insights from consumer psychology be used to optimize the emotional customer journey?
By investigating the digital customer journey using EEG and Eye tracking Pathé (a cinema brand with over 30 theaters in The Netherlands) was able to get inside the brain of their visitors and evaluate their usability experience.
This eventually led to an increase of 7% in their conversion rates. Also, by analysing the insights gained by neuro usability research, Pathé was able to increase their Click-Through Rate by as much as 72%.
Read on to learn how we achieved this.
[chevron-down]
Tools Retail research
How can subconscious road blocks in a customer journey be uncovered?
Sometimes even the smallest changes can make a great difference. However, it is often hard to find out what makes a visitor leave a website or webshop early on - and which adaptations can overcome this.
This is where neuro usability research comes in handy.
Neuro research gives us the ability to look at these subconscious road blocks, during the online customer journey. EEG makes it possible to identify these stumbling blocks where after they can be successfully tackled
Using EEG together with Eye tracking, we can see where people look and what they experience emotionally at the same time. As a result, we can precisely see what people stumble upon during their shopping trip and why they do so. Using brain measurements we can identify what people experience as difficult, what they do not like or what they are attracted to during their online journey.
Being able to precisely identify these pain points is really important because these are the key points where improvement can be made. By analysing these pain points and using our psychological knowledge we have helped Pathé improve their website and achieve these fantastic results!
Test #1 Shining the light on Pathé All Stars
Our research showed that the Unique Selling points (USP's) displayed on the Pathé All Stars-page were not fulfilling their role optimally. Using Eye tracking data it could be seen that people did briefly (subconsciously) see the banner with USP's, but in the interviews later on it was made clear that people did not consciously see and retained this information. Furthermore, many people did not even know that it was possible to sign up for Pathé All Starts.
A missed chance when this banner is subconsciously ignored!
Based on the performed research, our psychological consultants advised to visually emphasize this banner. Together with the online agency Bikkelhart, Pathé tested a new more visual version of the banner. The new version was better aligned with the visual identity of Pathé, which caused visitors to feel like they were in the flow of the customer journey instead of a separate unimportant part/page.
The result? Based on more than 7500 users, it was found that the new version of the banner led to an increase in conversion rate of 7 percent!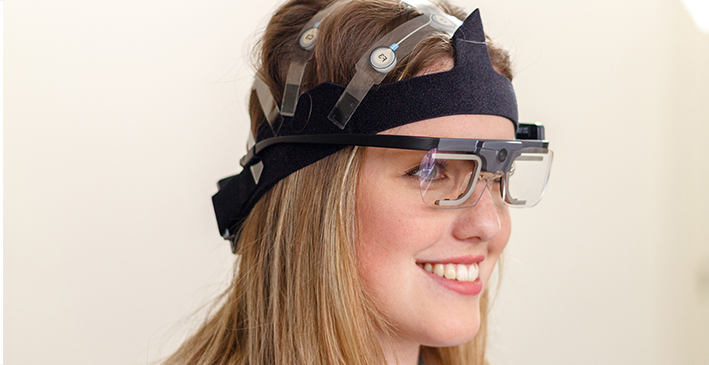 Test #2 What spot should I take?
Our research concluded that the selection of seats was experienced as a difficult part of the customer journey. More specifically, the neuro-metric 'workload' was above average.
In the following video, you can see the upper line (desire) and the middle line (workload) . The upper line often decreases below zero, and the middle line is often too high:
Based on this insight, Pathé started to design a new, easier way to select your seats on their website. As for now, there is a new seat plan available and different A/B tests are currently being tested to improve this part of the customer journey.
Test #3 An extra choice
Because Unravel carries out a lot of A/B tests in-house (our Unravel Behavior sister company), it often happens that we provide some extra insights during a presentation. From the extensive database consisting of numerous A/B tests which we have conducted ourselves, many 'Psychological patterns' turn out to be successful every single time they are implemented. One of these is the 'Hobsons + 1'.
By providing your potential clients with not 1, but 2 options, we often see that the number of people who choose at least one option significantly increases.
As for this psychological insight, you often see that webshops on their product pages not solely provide the option to put a product in your shopping basket but also the option to put it on your Wishlist.
Pathé tested this insight by displaying not only one but two call to actions on the homepage of different cinemas.
This A/B test was an enormous success as the Click-Through-Rate increased with 72%!
"By using Eye-tracking and EEG we can get unique insights in our customer's behavior. The research performed by Unravel provided different points of optimization which we can use to make the process of buying tickets online even easier for our customers."
Do you also want more insights, certainty and sales with neuromarketing?
Take a look into the brain with Unravel
Laten we koffie drinken
Unravel Research uses EEG and eye tracking to understand what the consumer won't tell you. This way we increase the impact of your ads.

Curious how your brand can profit from neuromarketing research? Tim loves to show you 5 crucial insights that lay the foundation for a perfect - sales increasing - commercial.
Onze klanten
We mean business with
Read more: Neuro Usability: Generating a 7% higher conversion rate, this is Pathé's new blockbuster